Tropical Cyclone Cheneso 2023
Last Modified: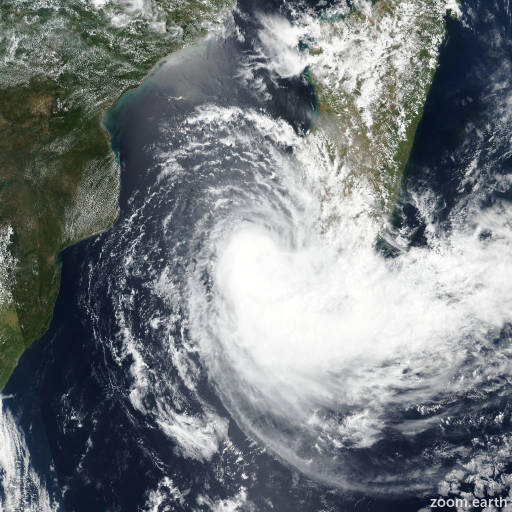 Cheneso
Satellite images, weather maps and tracks of Tropical Cyclone Cheneso 2023, January 13 - 31. Max wind speed 150km/h.
Cheneso is located 1632 km southeast of Europa Island, and has moved southeastward at 39 km/h (21 knots) over the past 6 hours.
Infrared imagery shows an exposed low-level circulation center (LLCC) located to the northwest of a relatively small mass of flaring convection.
Cheneso has succumbed to copious amounts of dry air from the west and has lost all signs of being a tropical system. The major shortwave trough that has been approaching from the west over the past three days is now the dominant steering feature as Cheneso will become fully extratropical in 12 hours. In addition, in 12 hours, temperature advection is noted in the GFS 1000-500 hPa thickness analysis.
A partial 29/19:17 UTC ASCAT-C pass shows 75 km/h (40 knots) of wind with a couple of isolated 45 knot wind barbs in the western semi-circle, with lighter winds towards the assessed LLCC.
The system is currently in a marginally unfavorable environment for any further tropical development with robust poleward outflow aloft and moderate (20-25 knots) wind shear offset by cooler (24-25°C) sea surface temperatures.
The initial position is placed with high confidence based off the aforementioned infrared imagery, as well as multiple agency fixes. The initial intensity of 75 km/h (40 knots) is set with medium confidence based off the ASCAT-C pass.
Model guidance remains in very tight agreement with a gradual increase to a 152 km spread at 12 hours. The JTWC track forecast is set with high confidence based off all agreeable data.
The JTWC intensity forecast is set with low confidence due to sporadic model behavior in consensus, most likely due to the models disagreeing with the timing of the extratropical transition. With that, the system is expected to slightly increase to 85 km/h (45 knots) as it transitions to extratropical at 12 hours.
This is the final warning on this system by JTWC. The system will be closely monitored for signs of regeneration.
Maximum significant wave height is 6.7 meters (22 feet).
Information provided by the Joint Typhoon Warning Center (JTWC).