Tropical Cyclone Charlotte 2022
Last Modified: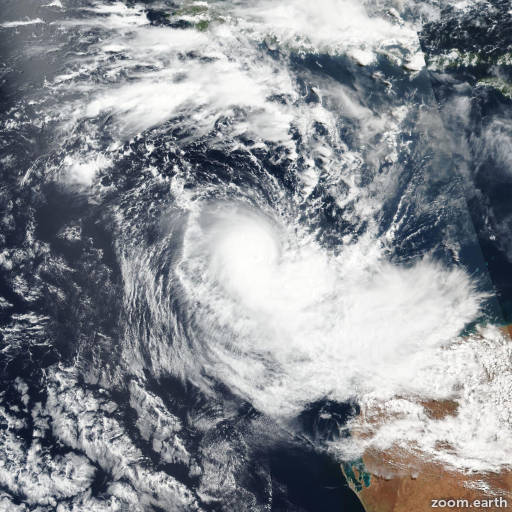 Charlotte
Satellite images, weather maps and tracks of Category 3 Tropical Cyclone Charlotte 2022, March 17 - 26. Max wind speed 165km/h.
Charlotte is located 782 km west-northwest of Learmonth, Australia, and has moved westward at 13 km/h (7 knots) over the past 6 hours.
Over the past 6 hours the system has rapidly weakened under the influence of strong westerly shear and dry air moving in from the west and enveloping the system.
As the system continues to move poleward, it will encounter increasing wind shear, even more dry air and move over steadily cooling waters, leading to steady weakening.
In 24 hours the system will move south of the 26°C isotherm and begin to directly interact with the subtropical low moving in from the west, marking the start of subtropical transition.
No later than the next 2 days the system will lose its topical characteristics as it moves under the 500 mb low aloft, and complete transition to a gale-force subtropical storm.
Track guidance is in good agreement on the overall track scenario over the next 2 days. Intensity guidance is mixed, with the Decay-SHIPS guidance suggest rapid weakening to below 65 km/h (35 knots) with 24 hours, while the HWRF and COAMPS-TC show near-term weakening following by another round of intensification as the system transitions to subtropical.
The JTWC forecast lies above the consensus over the next 24 hours, then closely follows the mean thereafter.
Maximum significant wave height is 7.6 meters (25 feet).
Information provided by the Joint Typhoon Warning Center (JTWC).