Typhoon Chaba (Caloy) 2022
Last Modified: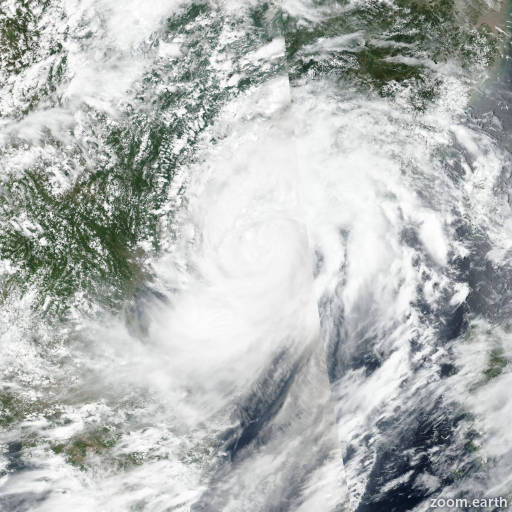 Chaba (Caloy)
Satellite images, weather maps and tracks of Typhoon Chaba 2022, June 25 - July 2. Max wind speed 135km/h.
Chaba (Philippine name Caloy) is located 333 km west-southwest of Hong Kong, and has moved north-northwestward at 13 km/h (7 knots) over the past 6 hours.
Chaba is forecast to make landfall within the hour just east of Zhanjiang, China under the steering influence of the subtropical ridge to the east.
As the system tracks inland on a north-northwestward trajectory over the next 24 hours the system is forecast to rapidly decrease in intensity due to the orographic impacts of southern China.
As the system continues to weaken Chaba will turn north and eventually north-northeastward before dissipating fully in 2 days. With the exception of NAVGEM, numerical models are in good agreement that Chaba will move inland and make a gradual eastward turn before fully dissipating.
Reliable model intensity guidance also shows good agreement with all members indicating a sharp decline in intensity due to land over the next 24 hours after which a more gradual decline until eventual dissipation at 2 days.
For these reasons JTWC track and intensity forecast is placed with medium confidence.
Maximum significant wave height is 7.9 meters (26 feet).
Information provided by the Joint Typhoon Warning Center (JTWC).