Typhoon Cempaka 2021
Last Modified: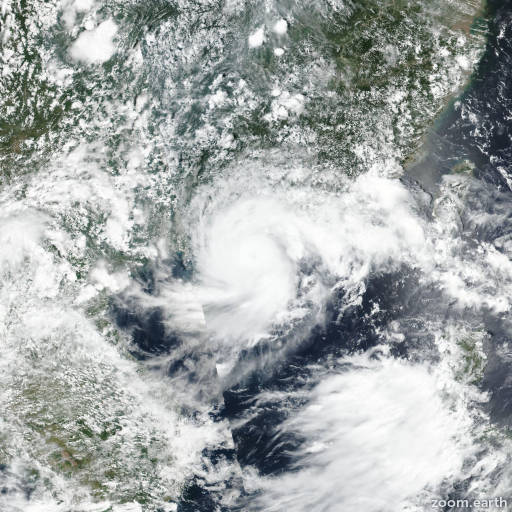 Cempaka
Satellite images, weather maps and tracks of Typhoon Cempaka 2021, July 17 - 24. Max wind speed 150km/h.
Cempaka is located 183 km southeast of Hanoi, Vietnam, and has moved southward at 13 km/h (7 knots) over the past 6 hours.
Infrared imagery, radar imagery and a SSMIS color composite microwave image show a weakly defined, exposed low-level circulation just west of Bach Long Vi, Vietnam.
Surface observations from Bach Long Vi have switched from westerly to south-southeasterly at less than 20 km/h (10 knots). Additional surface observations from along the coast of Vietnam show weak westerly flow into the remnant disturbance over water.
Environmental conditions will remain unfavorable with persistent strong wind shear of 35-55 km/h (20-30 knots) expected to hinder regeneration. The remnants of Cempaka should track eastward over the next 24 hours while continuing to weaken.
This is the final warning on this system by JTWC. The system will be closely monitored for signs of regeneration.
Maximum significant wave height is 2.1 meters (7 feet).
Information provided by the Joint Typhoon Warning Center (JTWC).