Tropical Storm Beta 2020
Last Modified: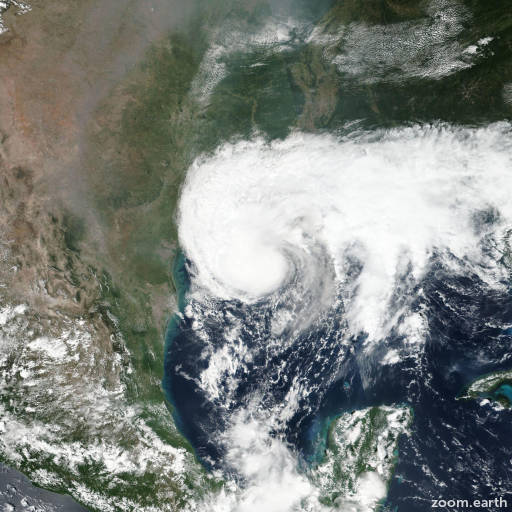 Beta
Satellite images, weather maps and tracks of Tropical Storm Beta 2020, September 16 - 25. Max wind speed 65mph.
Significant flash and urban flooding is occurring and will continue for the middle and upper Texas coast today (September 22). The slow motion of Beta will continue to produce a long duration rainfall event from the middle Texas coast to southern Louisiana. Flash, urban, and minor to isolated moderate river flooding is likely. Periods of rainfall will spread east into the Lower Mississippi Valley, portions of the Tennessee Valley, and the Southeast through the end of the week. Flash, urban, and isolated minor river flooding is possible on smaller rivers.
Persistent onshore flow will continue to result in above normal high tides, and coastal flooding over the next few days will be slow to recede. For information on the ongoing coastal flooding, please refer to coastal flood products issued by local National Weather Service offices.
High-resolution visible satellite imagery, surface observations, and NOAA Doppler weather radar data from San Antonio and Houston, Texas, indicate that Beta has continued to weaken. What convection remains is quite shallow with a few cloud tops only extending up to 25,000-30,000 ft ASL, mainly near and northeast of the center. However, those low-topped showers are quite prodigious rain-producers with rainfall totals of 13-14 inches having been measured across portions of the Houston metropolitan area thus far. The initial intensity of 25 knots is based on near-shore buoy and surface observing stations.
The initial motion estimate is now 065/04 knots. A coastal convergence zone or trough has formed about 20-25 nautical miles inland from the Texas Gulf coast and, owing to the lack of any significant deep-layer steering flow, Beta is forecast to move slowly along that trough axis and remain inland throughout the forecast period as a result. The ECMWF and UKMET models move Beta rapidly northeastward after 48 hours, but that scenario seems to be overdone given the expected shallow nature of the cyclone. The new NHC official track forecast is similar to the previous advisory track and lies close to a blend of the various consensus models, except that I used the slower forward speed of the GFS model.
Since Beta is forecast to remain inland for the next throughout the forecast period, the cyclone is not expected to regain tropical storm status. Beta to degenerate into a remnant low by 36 hours, and dissipate over Mississippi or Alabama in 96 hours, if not sooner. The new intensity forecast is similar to the previous advisory and closely the simple and corrected-consensus models IVCN and HCCA.
This is the last NHC advisory on Beta. Future information on this system, including the rainfall threat, can be found in Public Advisories issued by the Weather Prediction Center beginning at 10 PM CDT, under AWIPS header TCPAT2, WMO header WTNT32 KWNH, and on the web at http://www.wpc.ncep.noaa.gov
Information provided by NHC.