Tropical Cyclone Anika 2022
Last Modified: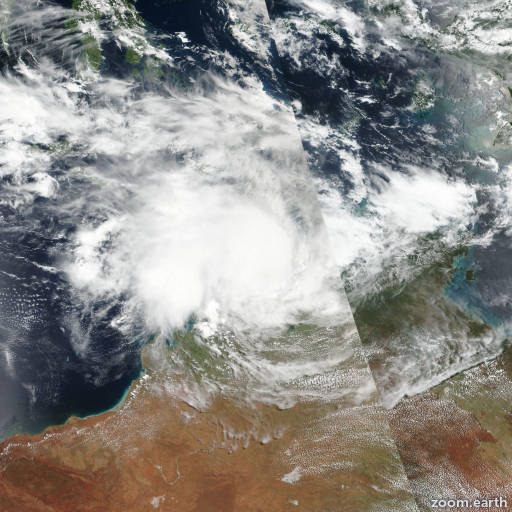 Anika
Satellite images, weather maps and tracks of Category 2 Tropical Cyclone Anika 2022, February 22 - March 4. Max wind speed 100km/h.
Anika is located 237 km east-northeast of Port Hedland, Australia, and has moved south-southwestward at 15 km/h (8 knots) over the past 6 hours.
Anika is expected to turn sharply southward and make landfall within the next three hours, near the town of Mandora, Australia. Once ashore it is forecast to turn steadily more southeastward in response to the approach of a mid-level trough approaching from the west.
As it moves inland, frictional effects will steadily weaken the system, and Anika is forecast to weaken below warning criteria in 24 hours. While the system is expected to fall below 65 km/h (35 knots) in 24 hours, the remnant circulation center will very likely continue tracking well into west central Australia while continuing to weaken steadily.
Track guidance is in very good agreement through the duration of the forecast period, though model trackers diverge significantly later once the system weakens.
The JTWC forecast track lies close to the median of the tracker envelope with high confidence. Intensity guidance is also in good agreement, though the HWRF predicts intensification to 95 km/h (50 knots) in 12 hours. This is unlikely as the system will be over land again within a very short time.
The JTWC forecast lies near the consensus mean with high confidence.
Maximum significant wave height is 4.3 meters (14 feet).
Information provided by the Joint Typhoon Warning Center (JTWC).