Tropical Storm Akoni 2019
Last Modified: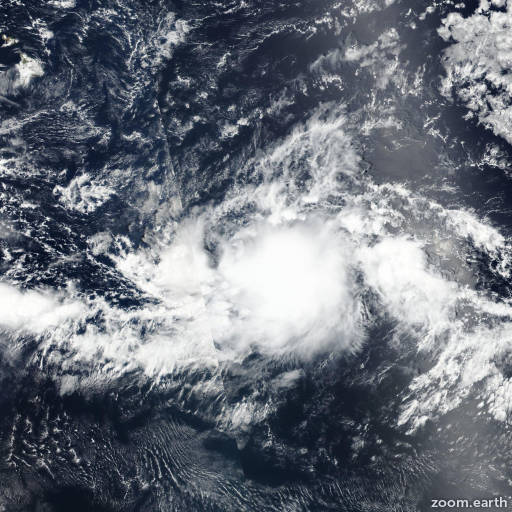 Akoni
Satellite images, weather maps and tracks of Tropical Storm Akoni 2019, September 3 - 6. Max wind speed 40mph.
Although showers and thunderstorms continue to pulse near Akoni's elongated low-level circulation center (LLCC), they have not been sufficiently persistent or organized to continue to classify the system as a tropical cyclone, and Akoni is being downgraded to a post-tropical remnant low. An overnight ASCAT-C pass showed southerly winds to 30 knots in an area east of the center, and that will be the initial intensity for this advisory.
The initial motion estimate is a very uncertain 270/14 knots, as it appears that the LLCC has re-formed west of its previous location. A low- to mid-level ridge will strengthen far north of the remnant low over the next couple of days, and the associated gradient will likely support 30 knot winds in the northern semicircle. The high will also drive the system toward the west to west-northwest, with an increase in forward speed expected over the weekend. Little change in strength is expected until the system encounters increased vertical wind shear toward the latter part of the forecast period. This is expected to cause the low to weaken and open into a trough by day 4 or 5, similar to the solutions presented by GFS and ECMWF guidance.
This is the last advisory issued by the Central Pacific Hurricane Center on this system, unless regeneration occurs. For additional information on the remnant low, please see High Seas Forecasts issued by the National Weather Service Honolulu, under AWIPS header HFOHSFNP, WMO header FZPN40 PHFO, and available on the Web at weather.gov/hfo/HSFNP.
Information provided by CPHC.