Hurricane Agatha 2022
Last Modified: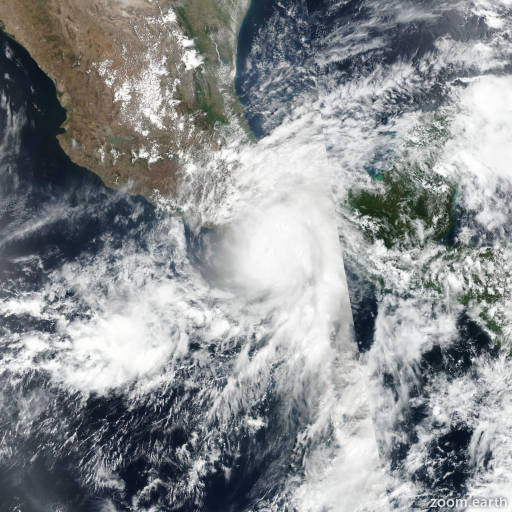 Agatha
Satellite images, weather maps and tracks of Category 2 Hurricane Agatha 2022, May 25 - 31. Max wind speed 110mph.
Heavy rains associated with remnants of Agatha will continue over portions of southern Mexico through tonight. This will pose a threat of potentially life-threatening flash flooding and mudslides.
The mountainous terrain of southern Mexico continues to take a toll on Agatha. Although a fairly well-defined mid-level circulation is still evident in satellite imagery, the low-level center has dissipated over southern Mexico. Therefore, this will be the final advisory on Agatha. The initial intensity has been lowered to 30 mph (25 knots), and continued weakening should occur today (May 31). The remnants are moving northeastward or 045/7 knots and this general motion should persist for the next 48 hours or so.
Deep convection, with heavy rainfall, extends across southeastern Mexico and Guatemala. This moisture will spread eastward across the remainder of southeastern Mexico, the Yucatán Peninsula, Guatemala, and Belize during the next day or so. During this time frame, numerical model guidance suggests that the remnants of Agatha will be absorbed within a larger cyclonic gyre over southeastern Mexico. Development within the broad low could occur over the northwestern Caribbean Sea or southeastern Gulf of Mexico later this week. Please see NHC's Atlantic Tropical Weather Outlook for more details.
Forecaster Brown/Bucci. Information provided by the National Hurricane Center (NHC).