Tropical Storm Aere (Domeng) 2022
Last Modified: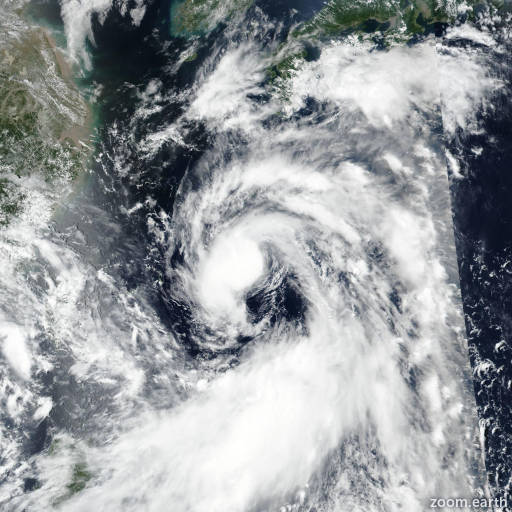 Aere (Domeng)
Satellite images, weather maps and tracks of Tropical Storm Aere 2022, June 27 - July 9. Max wind speed 85km/h.
Aere (Philippine name Domeng) is located 296 km southeast of Narita Airport, and has moved eastward at 19 km/h (10 knots) over the past 6 hours.
Aere is moving slowly east while it undergoes subtropical transition. During the transition, the upper-level trough will begin syncing up with the surface system and steadily intensify to tropical storm strength, reaching a peak intensity of 65 km/h (35 knots) within the next 12 hours.
The overall eastward progression will continue slowing as it enters a weak steering environment, and its overall motion becomes quasi-stationary between 24 and 36 hours.
The system will transition to subtropical completely in 36 hours if not sooner. From the next 36 hours and beyond, tropical development will be further suppressed by increasing dry air entrainment and ocean temperatures decreasing to the north. Thereafter, Aere will move slowly north under the rex block pattern until the blocking mechanism begins to break down between the next 2 days and in around 60 hours.
As the rex block breaks down and the subtropical ridge reorients to a north-south axis, east of the system, Aere will rapidly move to the north.
As the system accelerates to the north, it will rapidly weaken due to higher wind shear, cooler sea surface temperatures, and drop below 55 km/h (30 knots) in 2 days before ever reaching mainland Honshu or Hokkaido.
Deterministic model guidance remains in fair agreement in the first 12 hrs as the system tracks slightly to the east-southeasterly direction over the next 24 to 36 hours.
In 2 days, all guidance suggests a quasi-stationary looping motion due to the weak steering pattern and rex block situation. The forecast track appears to loop back in a counterclockwise manner in 2 days and move off rapidly to the north-northwest.
The high uncertainty in the exact track over the next 36 to 48 hours induces low confidence in the overall JTWC forecast track due to the erratic motion.
All guidance suggests a northward track between 2 and 3 days. Confidence in the overall intensity is also low, due to the uncertainties in the initial intensity along with all models constrained within a 5 knot envelope through the duration of the forecast.
Maximum significant wave height is 4.9 meters (16 feet).
Information provided by the Joint Typhoon Warning Center (JTWC).