Tropical Depression 20W 2020
Last Modified: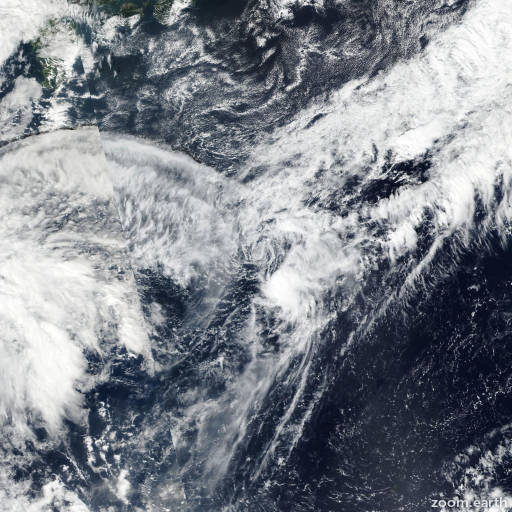 20W
Satellite images, weather maps and tracks of Tropical Depression 20W 2020, October 19 - 22. Max wind speed 55km/h.
Tropical Depression 20W, located approximately 112 nautical miles west-southwest of Iwo To, Japan, has tracked south-southwestward at 6 knots over the past six hours.
Animated enhanced infrared (EIR) satellite imagery and a 21/08:54 UTC SSMIS 91 GHz microwave image depict a fully exposed low level circulation center (LLCC) with some weak banding wrapping in from the west.
A bullseye 21/11:27 UTC ASCAT-A image revealing a swath of 20-25 knot winds to the north and northwest with weaker winds elsewhere.
Based on the aforementioned ASCAT image, there is good confidence in the initial position and initial intensity of 25 knots.
Environmental analysis indicates an unfavorable environment with strong (40-45 knots) vertical wind shear (VWS) being slightly offset by warm (28-29°C) sea surface temperatures and equatorward outflow.
TD 20W is currently tracking within a weak steering environment as a shortwave trough positioned to the northeast weakened the steering subtropical ridge (str).
As the shortwave trough propagates eastward, the str will begin to rebuild and reorient poleward allowing TD 20W to turn northwestward then northward, tracking along the periphery of the str.
Persistent strong (40-45 knots) VWS will cause TD 20W to quickly weaken, dissipating by hour 12.
The remnants of the system will be absorbed by a developing front southeast of the kanto plain.
Numerical model guidance is in good agreement.
However, due to the current weak steering environment, there is overall fair confidence in the JTWC forecast track which is placed near the multi-model consensus.
This is the final warning on this system by JTWC.
The system will be closely monitored for signs of regeneration.
Maximum significant wave height at 21/12:00 UTC is 9 feet (2.7 meters).
Information provided by JTWC.