Tropical Cyclone 17S 2022
Last Modified: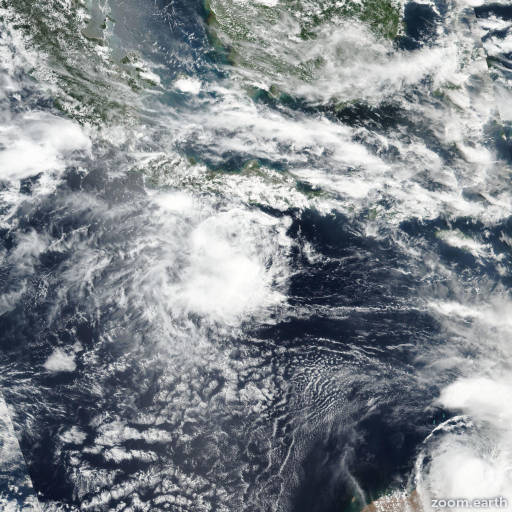 17S
Satellite images, weather maps and tracks of Tropical Cyclone 17S 2022, February 27 - March 3. Max wind speed 65km/h.
17S is located 1374 km north-northwest of Learmonth, Australia, and has moved northeastward at 7 km/h (4 knots) over the past 6 hours.
While 17S has moved northeastward over the past few hours, this is likely in response to a surge in the low-level southerly flow emanating from a strong subtropical ridge to the south-southwest. However, in the next 12 hours the system should start to move eastward then turn gradually southeastward as a near-equatorial ridge ridges in to the east of the system.
The system is expected to continue to struggle against the persistent easterly shear, and is unlikely to intensify through the forecast period.
Due to the small nature of the circulation, mesoscale changes in the upper-level flow pattern will allow for cycles of intensification and weakening about a mean of 65 km/h (35 knots) for another 24 hours.
In 36 hours however, shear is expected to increase to the point where the systems core cannot sustain itself, dry air will completely envelope the system and 17S will dissipate as a tropical cyclone.
The majority of the track guidance is in relatively good agreement in showing a gradual turn towards the south after 24 hours. The single significant outlier is the ECMWF ensemble, which at least over the next 24 hours is in line with the other models, then sharply turns equatorward and loops the system back to the west.
The JTWC track lies on the north and east side of the track envelope to account for the recent northeastward motion, with medium confidence. Confidence in the intensity forecast is low, with significant spread in the model guidance.
The mesoscale models support steady weakening from the start of the forecast, while the Decay-SHIPS guidance suggests a slight weakening in the near-term followed by intensification to a peak of 85 km/h (45 knots) in 5 days.
Due to the consistent shear, and dry air entrainment, this solution is considered highly unlikely, but does insert significant uncertainty into the forecast.
Maximum significant wave height is 3.7 meters (12 feet).
Information provided by the Joint Typhoon Warning Center (JTWC).