Tropical Cyclone 14S 2021
Last Modified: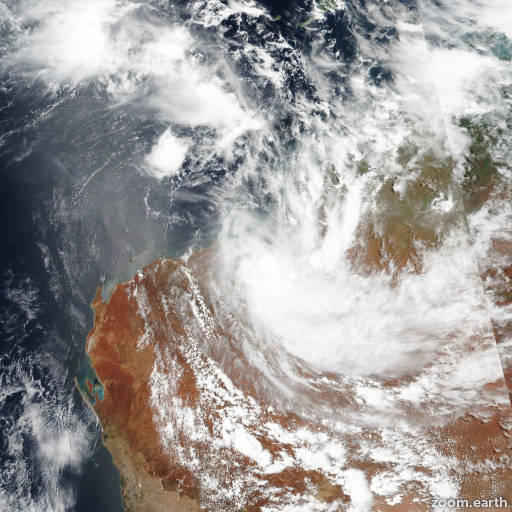 14S
Satellite images, weather maps and tracks of Category 1 Tropical Cyclone 14S 2021, January 19 - 23. Max wind speed 70km/h.
14S is located 219 km (118 nautical miles) east-northeast of Port Hedland, Australia, and has tracked southward at 17 km/h (9 knots) over the past 6 hours.
Satellite imagery indicates the system has peaked and is on a weakening trend, with deep cycling convection being sheared to the south, and partially obscuring the low level circulation center (LLCC).
Animated radar data from the Broome and Port Hedland radars indicated a very weak rotation crossing the shore near sandfire, Australia, but the signature is not conclusive and thus lends only low confidence to the initial position.
14S is in the process of making landfall along the northwest coast of Australia at the 22/00:00 UTC hour, and will continue tracking inland along the western periphery of a deep-layer subtropical ridge centered to the east.
The system will steadily, but slowly, weaken over the Great Sandy Desert and dissipate as a tropical cyclone in 36 hours, though remnants of the system are expected to continue tracking inland into west-central Australia.
Forecast models are in good agreement on the overall scenario, but due to the uncertainty in the initial position, and the resulting possibility of a longer period of time over water, there is low confidence in the JTWC forecast.
This is the final warning on this system by JTWC. The system will be closely monitored for signs of regeneration.
Maximum significant wave height at 22/00:00 UTC is 14 feet (4.3 meters).
Information provided by the Joint Typhoon Warning Center (JTWC).