Tropical Depression 01E 2020
Last Modified: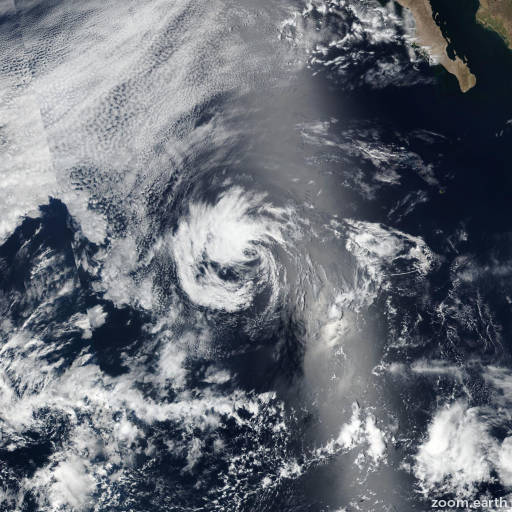 01E
Satellite images, weather maps and tracks of Tropical Depression 01E 2020, April 22 - 27. Max wind speed 35mph.
The cyclone has lacked significant organized deep convection for at least 10 hours, and the system is moving into increasingly more stable air and over sub-25°C deg C SSTs. Therefore, the depression has been downgraded to a post-tropical remnant low. The initial intensity is 25 knots is based on several 23-25 knots wind vectors located n-e of the low-level center in a 17:18 UTC ASCAT-A overpass. Although the system may still produce some sporadic convection late tonight during the convective maximum period, dry and stable air along with strong westerly shear will likely prevent any appreciable convection from persisting over the next day or so. This should cause the remnant low to weaken and then open up into a trough in 36-48 hours.
The initial motion remains 305/08 knots. A substantial low- to mid-level ridge to the north of the cyclone is expected to gradually nudge the shallow low toward the west-northwest later this afternoon (April 26), followed by a westward motion tonight, with that motion continuing until the system dissipates Monday night. The new NHC track forecast is essentially just an update of the previous advisory track.
This is the last advisory issued by the National Hurricane Center on this system. For additional information on the remnant low, please see High Seas Forecasts issued by the National Weather Service, under AWIPS header NFDHSFEPI, WMO header FZPN02 KWBC, and on the web at ocean.weather.gov/shtml/NFDHSFEPI.php .
Information provided by NHC.