Depression 01B 2022
Last Modified: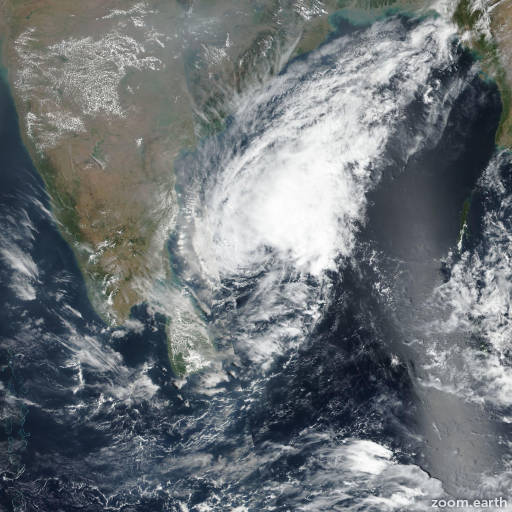 01B
Satellite images, weather maps and tracks of Deep Depression 01B 2022, March 2 - 6. Max wind speed 65km/h.
01B is located 1311 km south-southwest of Kolkata, India, and has moved northward at 7 km/h (4 knots) over the past 6 hours.
01B has been moving slowly northward over the previous 12 hours or so, along the mid-level steering ridge centered well to the east. However, as the system continues to weaken the steering level will lower, and the easterly flow along the southern edge of the anticyclone over north-central India will assume the dominate steering role.
Once this occurs, expected within the next 12 hours, the system will turn sharply to the west. As depicted in the HWRF area averaged Skew-T data, mid-level southwesterly shear is fairly strong, and is pushing the convection far to the northeast off the low level center.
01B will struggle in the face of the dry air entrainment and mid-level shear and is expected to steadily weaken over the period of the forecast, dissipating in 24 hours as it is completely engulfed in the dry air emanating from the Indian subcontinent.
Track guidance is in good agreement, with all consensus members in concurrence on the sharp turn to the west within the next 12 hours. The JTWC track lies on the northern edge of the envelope to account for the near term northerly motion, with high confidence.
Intensity guidance is in very good agreement, with the bulk of the members supporting dissipation in the next 24 to 30 hours, though the COAMPS-TC model suggests the system holds on another 12 hours.
The JTWC forecast closely tracks the consensus mean with high confidence.
Maximum significant wave height is 4.3 meters (14 feet).
Information provided by the Joint Typhoon Warning Center (JTWC).